"Top marks to everyone involved in what is a real showcase production." Gordon Potter, The Living Tradition
In the summer of 21 all three groups of Between Islands musicians finally got the opportunity to perform together as part of the Hebridean Celtic Festivals livestreamed event.
Out on the Islands, written by Lewis songwriter Ado Matheson – from the livestream event.
A popular Shetland tune Da Slockit Light – from the livestream event.
Music was the original driver for the Between Islands Project, and the blog below by Coordinator Alex MacDonald gives us an insight into how that element was developed.
In 2014 Creative Scotland had the faith to seed fund a suggested collaboration between some of the Western and Northern Islands best contemporary song writers. The idea was to bring together the selected artists – Willie Campbell from Lewis, Kris Drever from Orkney and Arthur Nicolson from Shetland – in the creation of some new co-written material. The theme was simply islands, and although this collaboration sounded straight forward, there were some important considerations.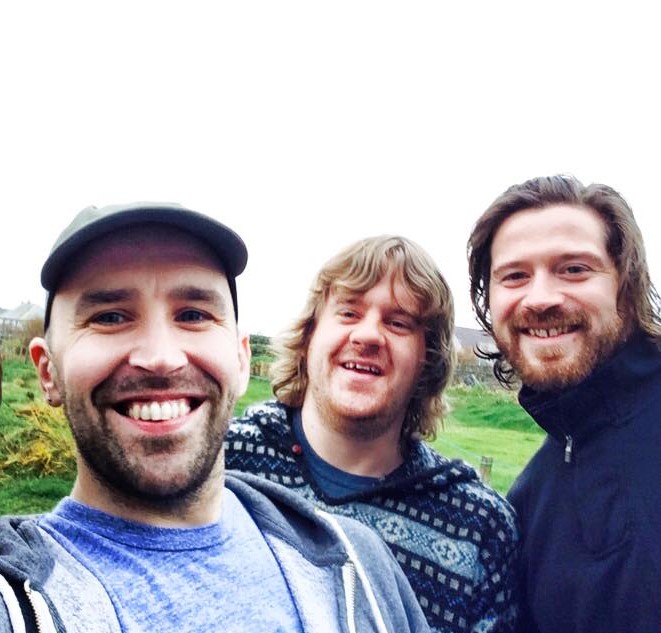 Firstly, they were artists broadly known for different styles of music, although none of them can be pigeonholed. Willie was best known as a member of indie band Astrid, Arthur had just won a Danny Kyle award at Celtic Connections, and Kris was much in demand in the world of folk and roots. In addition, and although I knew them all, they hadn't worked together before. Nor, I remembered as our plane landed in Sumburgh, had Willie even met either of the people he was just about to work with. It had been viewed as a risky set of circumstances by some, and at that moment I wondered if they were right.
However, within a day there was a song in the bag. And, ultimately, what was to become the pioneer Between Islands project has gone on to be the driver for much more than I could have imagined at that time. It is also a measure of what a series of small grants can go on to create, as by the end of that first week there were eight songs completed. Another five followed when Kris and Arthur travelled to Lewis to work with Willie again that winter – this time assisted by Shetland Arts – and by the summer of 2015 the songs had been showcased in concerts on all three islands – due to sponsorship gratefully received from Loganair.
The reaction to the work that had been produced was really encouraging. Everyone wanted to know when the CD was coming out. At first elated, I then realised that finding time to record these songs, and most importantly fund it, would not be easy. So, the boys re appearance at The Hebridean Celtic Festival in 2019 was a special one, not least as it formed part of the extended programme of events which Leader had now supported under the Between Islands banner. This larger scale project includes inter island museum exhibitions, lectures, films and much more, but it all started by locking away three musicians in a room in Lerwick – albeit with their full consent.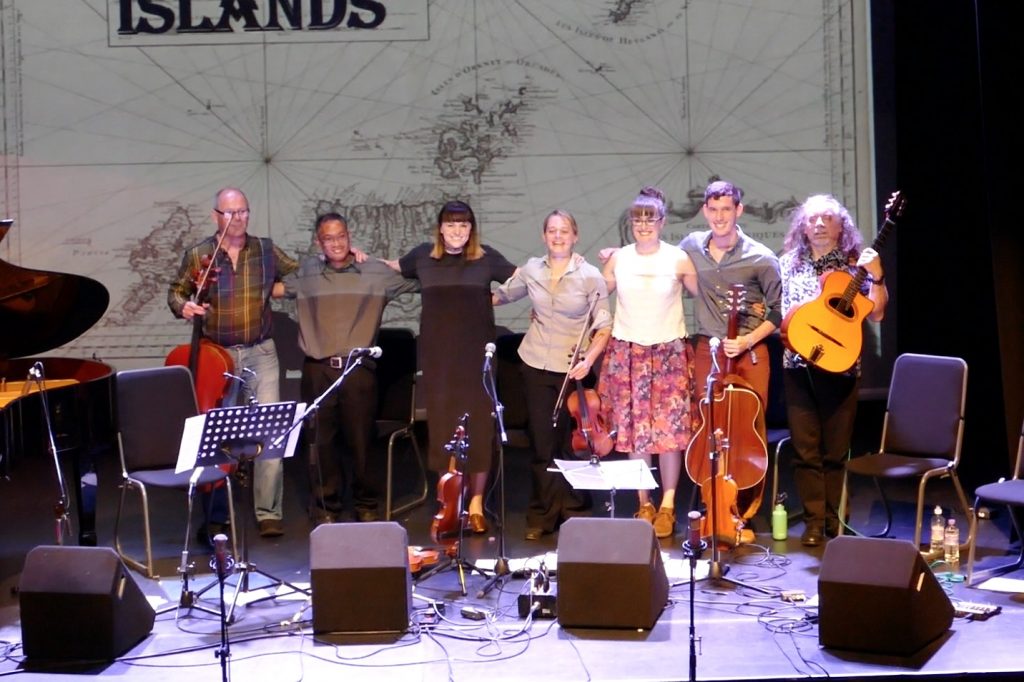 In the intervening years there were two further music projects. However, with the islands producing more talented musicians and singers per square mile than any other area I can think of, selection of those to take part wasn't easy. Eventually it was decided to focus on a specific topic for project number two – which was traditional fiddle music – and on the rising stars of that genre. So once again I travelled to Shetland, stopping off in Orkney, this time with Jane Hepburn Macmillan in tow and with the sole purpose of introducing her to Maggie Adamson and Louise Bichan. Importantly, it also gave Jane some time to do research in the museum archives, as the opportunities presented to the participants by undertaking these trips are invaluable. Enabling artists to visit each other's respective islands has been a very satisfying outcome, but to see them going on to work together as a result – for the first time ever – is especially rewarding.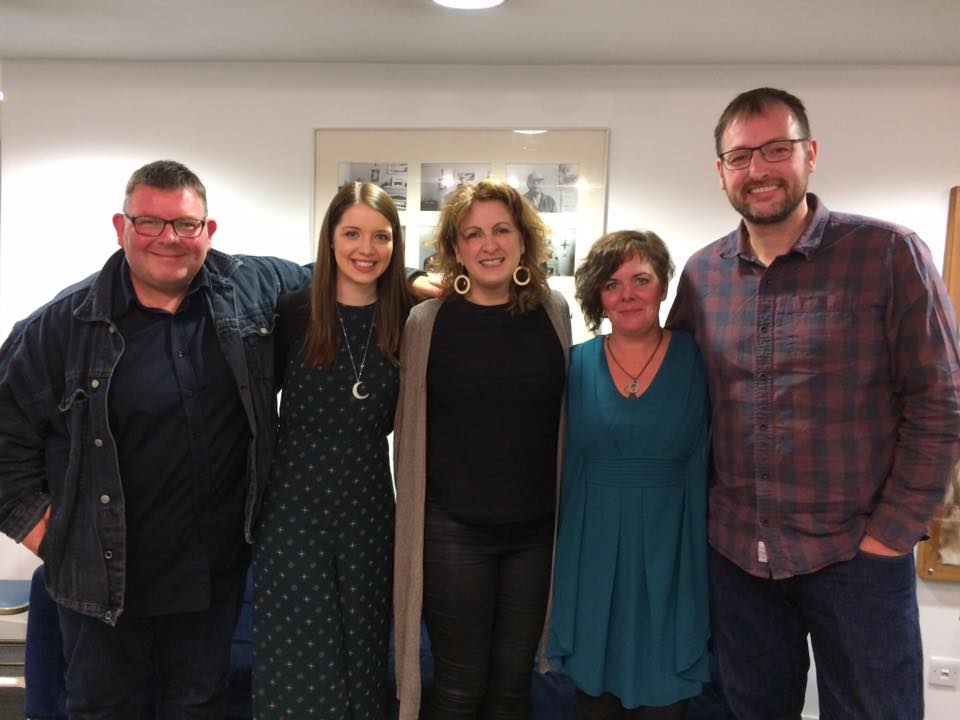 The final collaboration was formed around the commemorations for the First World War, bringing together Saltfishforty, Jenny Napier Keldie, Kathleen Macinnes, Linda Macleod and Julie Fowlis. Importantly, the concert featured tunes and songs that were personal to them, some written for relatives who had been a part of that history, and perhaps this element of the project gives the clearest illustration of how the arts and heritage combine. Our first introduction to stories from the past often come through music, and following in that spirit, another theme was that of shared island histories. One song that was particularly popular with audiences was a Gaelic puirt a beul (mouth music) which details the journeys made by the Island's herring gutters as they followed the fishing fleet throughout the country in the early 1910s. The ports they worked in included Stornoway, Stromness and Lerwick – which is referenced in the song – and when combined with Orkney reels, was a perfect way of telling our combined story. In a similar vein, the Nicolson Institute Choir were invited to take part in the performance of a song in Shetland dialect for the Stornoway concert. Then, when the band visited the Orkney Folk Festival the following year, the local children sang in Gaelic. This is the spirit of the project in operation, and hopefully just part of what can be achieved as we continue to work together Between Islands.
On line performances: The first in our series of performances filmed specially for the project by our Between Islands musicians. Orcadian Kris Drever performs Scapa Flow 1919, a song he originally wrote for the BBC series "Ballads of the Great War".
On line performances: Spindrift was one of the first songs written by Kris, Willie and Arthur as part of the first music project. For this version of the song Willie is joined by Jane Macmillan and Neil Johnstone.
On line performances: John Gow, the Orkney Pirate was one of the subjects covered in our series of online talks. Orcadian duo Saltfishforty recorded this version of Ivan Drevers composition The Ballad of Pirate Gow especially for the project.
Online performances – the second music project focused on the traditional fiddle music of the islands, and each of the participants have prepared a special online performance. First up is Maggie Adamson with a trio of tunes from Shetland.
Online performances: In the second of our fiddle features, Orkneys Louise Bichan plays some tunes from her island home.
Online performances: This is one of the songs written as part of the first Between Islands music project, in a solo version by Arthur Nicholson. Rolling and Tumbling will also feature on the forthcoming CD.
On line performances – in the final of our fiddle tradition films, Lewis musician Jane Hepburn Macmillan plays a tune from each area – Shetland, Orkney and the Hebrides. She is accompanied by Willie Campbell and Neil Johnstone.
Online performances – Shetland songwriter Jenny Napier Keldie tells a personal story in this lovely piece of film, which speaks of her grand uncle Samuel Ward.
The Between Islands CD is available now! from – An Lanntair info@lanntair.com. Featuring two hours of music from both live and studio recordings by Willie Campbell, Arthur Nicholson, Kris Drever, Louise Bichan, Maggie Adamson, Jane Macmillan, Jenny Keldie, Kathleen Macinnes, Linda Macleod, Saltfishforty, Neil Johnstone and Julie Fowlis
Click the spotify link on our homepage to listen.
Between Islands online performances – this beautiful piece of music performed by Julie Fowlis tells of a story that links Shetland and the Hebrides
Online performances – a set of tunes by Orkney duo Saltfishforty
Lewis musician Willie Campbell talks about his experience of working on the music project
Further links to musical performances will be added as they become available
Review of the Between Islands CD February 2021