2020 started out in the most positive way. A general project trip to Shetland was combined with attending Up Helly Aa and included – through some local friends – the opportunity to join the celebrations afterwards in a village hall. What is particularly notable about the main event is that every aspect from the making of the galley, costumes and torches is created by the community. Likewise the food provided in the halls afterwards is prepared by the women within that area, and every part of the event represents the population working together. Its little wonder that the islanders attend each year on mass, and I viewed it in wonder, not just for the spectacle, but as a genuine measure of a combined effort. I was also aware that attending such events is not a right, it's a privilege for a visitor, and so from appearing on my bucket list to the actual experience it certainly did not disappoint.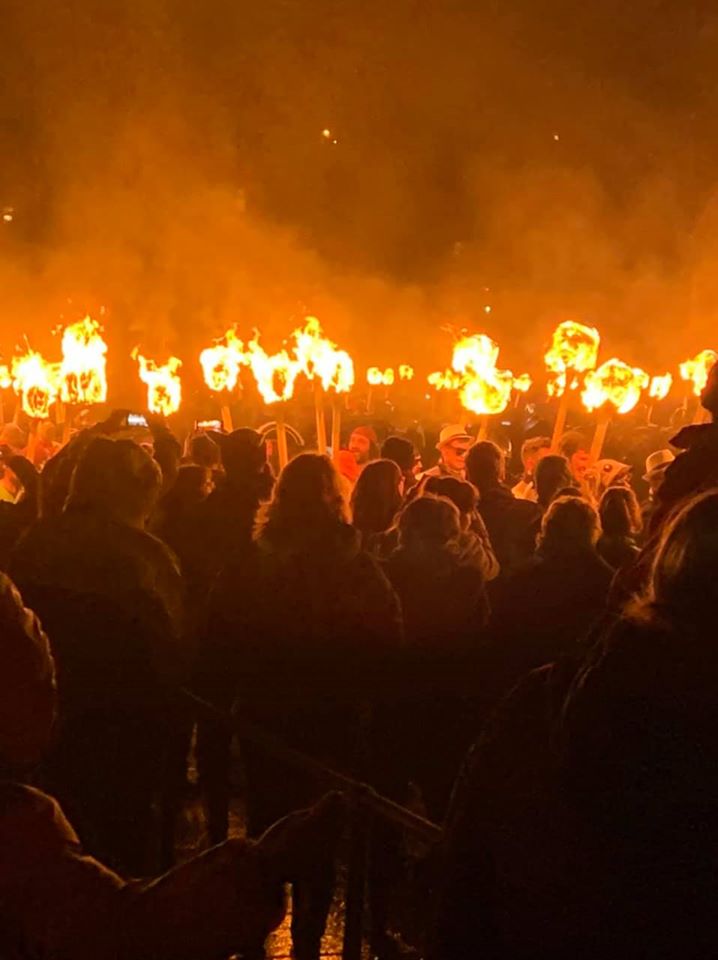 On my return I got underway with the practicalities of organising the inter-island programme for the coming months. There were to be live music events, workshops and lectures across all three islands, and importantly, the opening of our museum exhibitions. With so many people involved it had been quite a task organising accommodation and travel alone, but I was very much looking forward to returning to the northern isles both to take some of our musicians to Shetland Folk Festivals fortieth anniversary and to see the Kirkwall museum exhibition open. As if that wasn't enough to look forward to, this phase of the project was due to end in July on home turf, at the Hebridean Celtic Festivals 25th anniversary. It would be the first opportunity to get all thirteen musicians together for a combined performance, and in tandem with the opening of the Lerwick, Stornoway and Uist museum displays, it was an exciting prospect.
And then suddenly there was nothing. Well, there was something of course, and a rather big something. One day I was sitting at my desk, and the next I am told we are to be closed indefinitely, and to make cancellations for the coming months programme as was necessary. Initially I felt we were in a wait and see situation, then, as happened globally, came the realisation that we were in fact facing the most serious situation possible, and planning any aspect of our normal business was a secondary issue.
From there the domino effect began, and everything that had been done, now had to be undone. Importantly, I was also aware that with each cancellation I was essentially removing work for other people. Their diaries as well as mine were emptying, and it set me thinking as to what could be done to salvage the project in any way that we could. A bit like Up Helly Aa, there was some firefighting to be done, but this time with all three island communities involved.
Communication with all concerned was key, so I contacted everyone suggesting some options, wrote off what I sensed would prove impossible, and then could only hope for the best. Thankfully both LEADER – as our funders – and the participants were in agreement with my proposals. They were all still keen to make it happen in whatever format we could, although I was also aware that time was marching on – the funding was for 2020 and we were now at the start of July.
It was agreed that the museum exhibitions would be placed online, so physical artefacts would now travel through the virtual world rather than be transported by sea. It was, however, just a different kind of logistical nightmare as the museums were closed indefinitely, artefacts were safely tucked up inside, and with no idea of when access could be gained to film or photograph them. We also needed companies to help us create this new method of display, and within budget, so challenges still lay ahead but at least it was a plan. Too much work had been done by the individuals concerned to let one of the central aspects disappear. I also thought of it in light of the trips each curator had made to the corresponding islands to view the collections, something that had never been done before and which this project had enabled, and knew it simply couldn't be allowed to slide.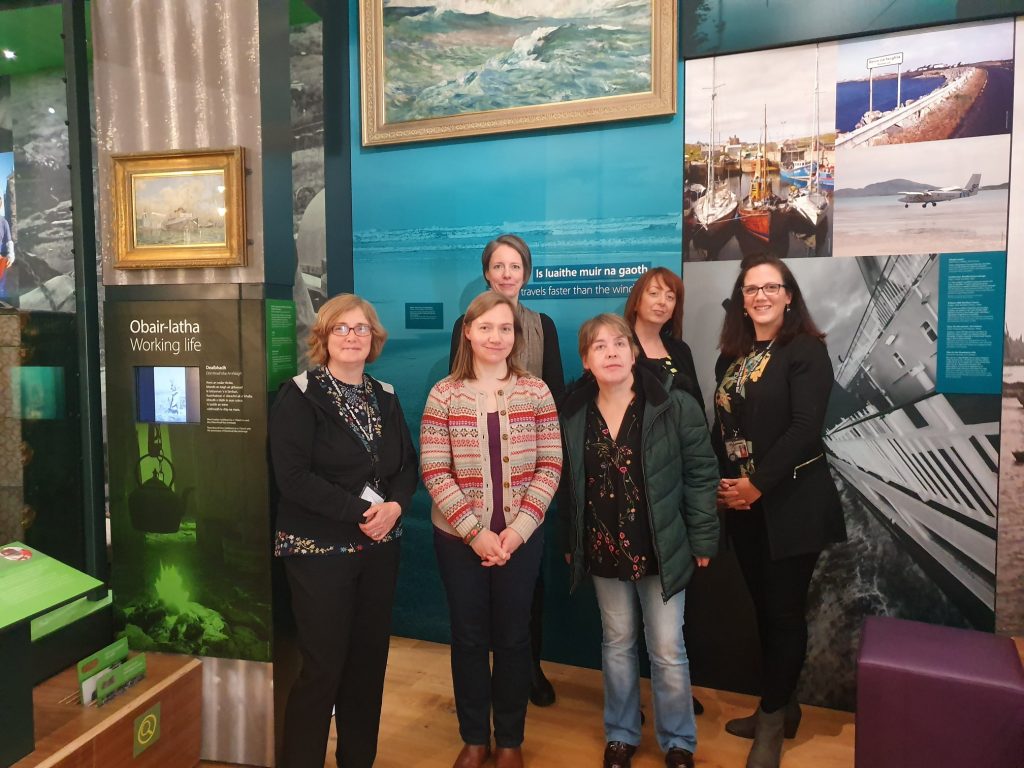 Some lectures could also be placed online, and if not, we would step up the creation of short films to cover some of the subjects we had intended on featuring initially. Thankfully some filming had been completed before lockdown, as social distancing was now very much in place. Tier two status would allow us to film some items under regulation, but in the main outdoors, and in the unpredictable island weather. Meeting in the garden was the new norm anyway, so we persevered. It was also perseverance that enabled me to learn how to edit short pieces after they had been captured – albeit using tuition sites and the midnight hours to do so – necessity being the mother of invention.
It had also been planned to have a booklet, some text in conjunction with our UHI participants, and in tandem with their lectures. But only two lectures had been undertaken before lockdown, and I was aware that they could appear disconnected under these circumstances. At the heart of the project was physical exhibitions and live performances and without these drivers it was important to ensure cohesion throughout. But after some discussion our initial two essays became eight, and I soon realised we had a book rather than a booklet to publish, which was a very pleasing outcome.
And what of the plans for encouraging younger children to visit the museum displays? As neither the children or the displays would be there, what could we do to cater for them? So our idea of a gallery pack became an online resource. And it was beautifully compiled by two people, one in Lewis and one in Shetland. The fact that they didn't actually know each other before this process began was also entirely within the spirit of the project, and as I knew they would, within a short time they were zooming and making plans.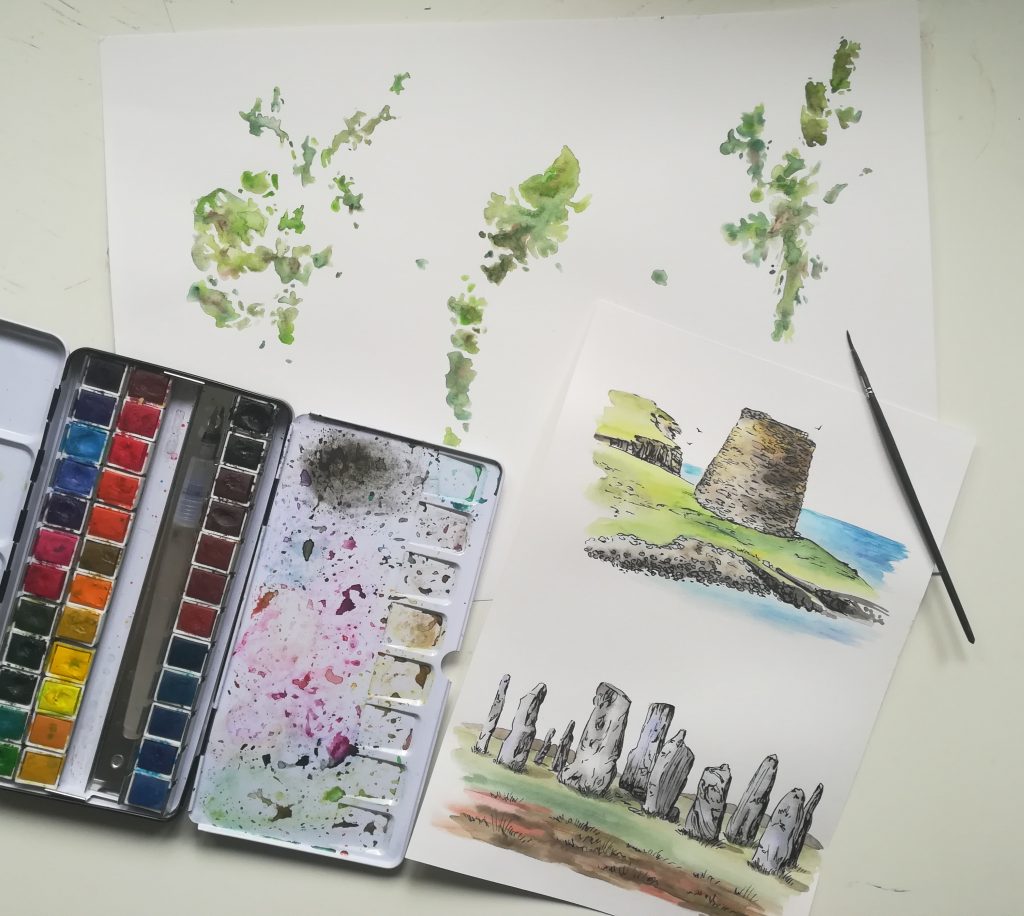 Then there were the musicians. There was no option to delay until the following year to perform. Both Folk festivals were cancelled, and the funding timescale wouldn't allow it even if all the stars now came into alignment. They were also a group of people who had the rug firmly pulled out from under their feet in terms of work. Empty diaries and the warning that the entertainment industry would be the last to recover from the effects of the pandemic was a very real worry. Yet we did find a solution, and in addition to releasing the live work already recorded, they agreed to work not only across islands, but across projects to create new work, giving them the opportunity to work with people they had never worked with before. At least that's how I framed it, but some of them have to be commended still further for having produced tracks with people they have still not met to this day. Collaborating in that way is neither ideal or easy, but they did it all the same, helping each other along the way with recording and mixing, as of course access to studios was restricted. Some of them also prepared additional musical tracks to appear online as bonus material – in short, a great effort was made by all working on the project, and I am extremely grateful.
Ultimately this project recalibration was devised and completed within six months, and I will now officially give a massive thanks to all concerned. Whether it was the young women who created our beautiful children's resource pack, or the musicians who worked in a crazy criss cross of islands, situations and timescales, it has all been sterling work. The museum teams rose to the challenge and in conjunction with their respective providers have created displays that – perhaps ironically – have benefited from going online. They are now available to be seen by wider audiences and larger numbers, as are the short films on our dedicated youtube channel, with views to date recorded from Canada, the USA, Germany and New Zealand as well from throughout the UK. From what at first seemed like an impossible situation, everyone concerned has gone the extra mile and I believe our online resources, exhibitions, publication, education pack and CD are testament to that.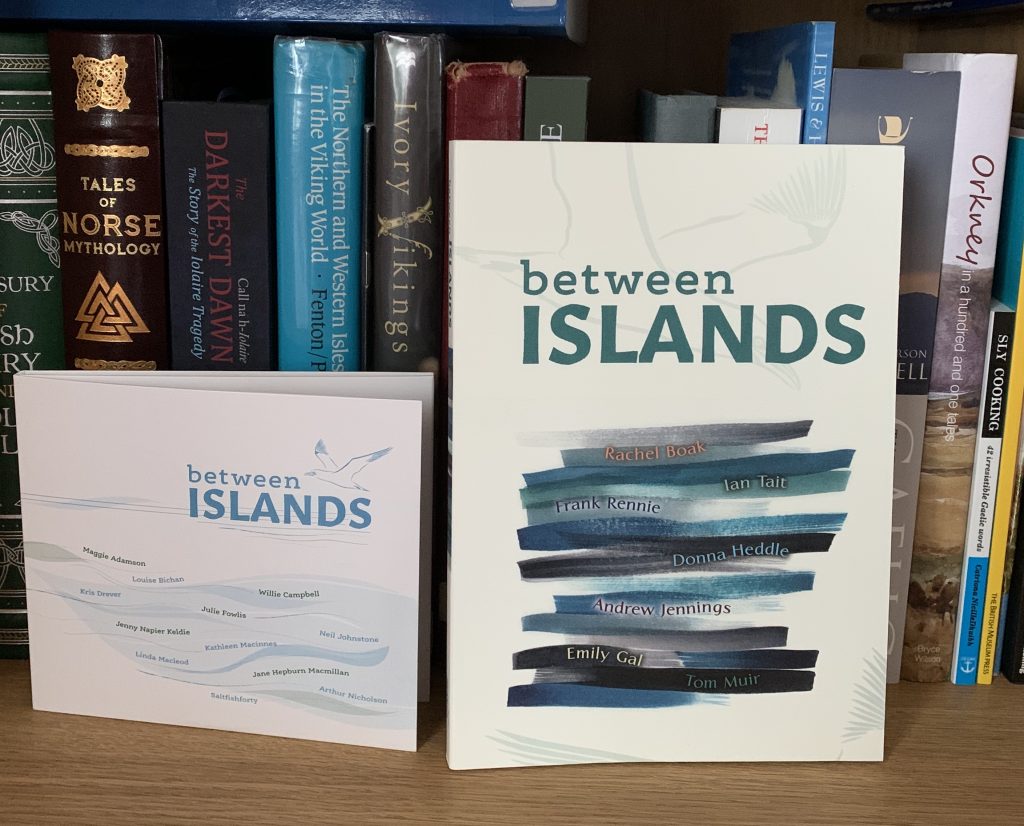 It is hoped that the project will continue during the coming year in some form. We will for example, endeavour to create more short films and expand on the musical performances. I will also provide some more information on each aspect of the project, as they merit more detailed comment. In the meantime, my sincere thanks to all those listed below. I have thoroughly enjoyed working with everyone remotely this past year, but I do hope to see everybody in the real, rather than the virtual, world very soon.
Alex Macdonald, Between Islands Coordinator
With thanks to:
Museum Staff – Dr Ian Tait, Davy Cooper, Rachel Boak, Tom Muir, Caitriona MacCuish, Ashley Ferrier, Seonaid Macdonald, Isobel McLachlan
Musicians – Willie Campbell, Kris Drever, Arthur Nicholson, Maggie Adamson, Louise Bichan, Jane Macmillan, Julie Fowlis, Kathleen Macinnes, Douglas Montgomery, Brian Cromarty, Neil Johnstone, Linda Macleod, Jenny Keldie
Online services/Design – NB Communication Shetland/Kylie Wood, Rebecca Marr/Kolekto, Karen Mackay Graphics, Reefnet/Alex Tearse, Rhona Jenkins
Publication – Professor Frank Rennie, Professor Donna Heddle, Dr Andrew Jennings, Dr Emily Gal, Margaret Anne Macleod, Agnes Rennie (also Dr Ian Tait, Rachel Boak and Tom Muir)
Film makers – Zoe Paterson Macinnes, Keiba Clubb, Dr Ali Whiteford, Douglas Ledbitter
Education Pack – Alice Macmillan, Helen Laurenson
Calum Fraser, our film interviewees, Leader officers in Shetland, Orkney and the Hebrides, Eilidh Whiteford, Craig Course, Davie Gardener, Arlene Gardner, Alison Miller and Fiona Adamson
Review blog from Shetland.org February 2021
https://www.shetland.org/blog/northern-and-western-isles-links